Submerged Arc Welding
Submerged arc welding (SAW) is a method in which the heat required to fuse the metal is generated by an arc formed by an electric current passing between the electrode and the work piece.
There is no visible arc and no sparks, spatter or fume. The electrode may be a solid or cored wire or a strip.
SAW is normally a mechanized process.
Process of SAW
The molten weld and the arc zone are protected from atmospheric contamination by being "submerged" under a blanket of granular fusible flux.
flux consists of lime, silica, manganese oxide, calcium fluoride, and other compounds.
When molten, the flux becomes conductive, and provides a current path between the electrode and the work.
This thick layer of flux completely covers the molten metal thus preventing spatter and sparks as well as suppressing the intense ultraviolet radiation and fumes that are a part of the shielded metal arc welding (SMAW) process.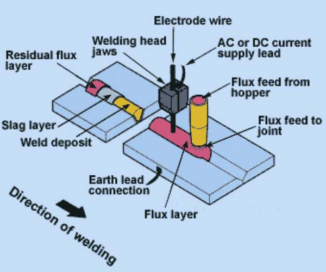 Features of SAW
Flux Hopper : It stores the flux and controls the rate of flux deposition on the welding joint.
Welding head : It feeds flux and filler metal to the welding joint. Electrode (filler metal) gets energized here.
Flux : The granulated flux shields and thus protects molten weld from atmospheric contamination. The flux cleans weld metal and can modify its chemical composition also.
Features of SAW
Electrode : SAW filler material usually is a standard wire as well as other special forms. This wire normally has a thickness of 1.6 mm to 6 mm (1/16 in. to 1/4 in.). In certain circumstances, twisted wire can be used to give the arc an oscillating movement. This helps fuse the toe of the weld to the base metal. The electrode composition depends upon the material being welded. Alloying elements may be added in the electrodes. Electrodes are available to weld mild steels, high carbon steels, low and special alloy steels, stainless steel and some of the nonferrous of copper and nickel.
General Operating Conditions
Current: the total welding current can range between 100 and 3600 amps.
Wires in one molten pool: from 1 to 6.
Voltage: 20-50 volts.
Speed: 30-350 cm/min.
Deposition rate: 2-100 kg/hr.
Types of SAW
Submerged Arc Welding can be divided into 5 types:
Single Wire
Twin Wire
Tandem
Tandem Twin
Multi Wire
Single Wire
Single wire welding is the most widely used SAW method.
DC power source is used.
The solid or cored wires of diameter 2.0- 4.0 mm are used.
A small diameter produces a higher deposition at the same rate.
Twin Wire
For twin wire welding, two wires are connected to the same power source.
DC power source is used
It offers up to 30% higher deposition rates and can be used at higher currents and speeds.
Very high welding speeds can be achieved in fillet welding.
Tandem
In tandem sub-arc welding each of the two wires is connected to its own power source and fed simultaneously by its own feed unit.
Both AC and DC sourcecan be used.
The wires are normally large diameter (3.0-5.0 mm) and deposition rates are about twice that of single-wire welding.
Tandem Twin
The ESAB tandem-twin process involves two twin wire heads placed in sequence.
Both AC and DC source can be used.
With the use of 4×2.5 mm diameter, wires deposition rates of up to 38 kg/h can be achieved.
Multi-Wire
Up to six wires can be used together, each with their own power source.
The lead wire is usually DC+ polarity with the trailing wires being AC.
Speeds of up to 2.5 m/min can be achieved giving a maximum deposition rate of 90 kg/h.
This technique is particularly suitable for longitudinal pipe welding.
Advantages of SAW
High quality.
Little risk of undercut and porosity.
No spatter.
Very little risk of lack of fusion due to deep and safe penetration.
High deposition rate.
High thermal efficiency.
No radiation.
High welding speeds are possible.
Deep penetration rate.
Low distortion.
Limitations of SAW
Precise joint preparation required
No observation of arc and process during welding is possible
High operational effort
It can not be used for plates less than 5mm thickness.
Flux is subjected to contamination and adsorbtion of moisture.
Solidification cracking.
Irregular wire feed.
Applications of SAW
Fabrication of Boiler Pressure Vessel.
Railroad tank cars.
Structural shapes and cylinders.
Circular welds.
Beam Production.
Ship Building.
Circumferential welding in wind tower fabrication.
Longitudinal pipe welding.
Nickel-base Alloys.
Surface Applications.